In my latest blog post, Rebranding in 7 Steps, I mentioned that I was in the beginning stages of a full LR Design rebrand.   I'm proud to announce that my new brand and website is finally here! After 7 years in business, LR Design & Marketing has an updated logo, brand image, and website!
The new LR Design & Marketing brand features an updated logo that demonstrates creativity and precision. I wanted to better showcase that my custom web design and digital marketing services are built to drive results in a beautiful way. The colors have been changed from purple and grey to mustard yellow and dark teal. The new website incorporates the geometric shape of the logo throughout the site and features an enhanced user experience. Ultimately, I wanted to create a professional brand image that portrays LR Design & Marketing as an experienced agency.
The enhanced website incorporates new services such as digital marketing and more website maintenance offerings along with web design and graphic design services. The LR Design & Marketing portfolio of work has also been expanded to better showcase the projects that have been completed over the years. The LR Design blog will be regularly updated with tips and tricks on web Design, SEO, digital marketing, and running a small business. The site is much more user-friendly and easy to get access to the information my clients need.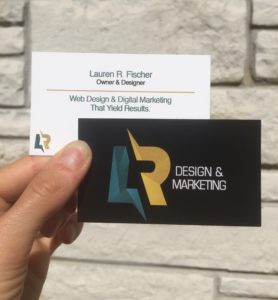 Visit Site: LRwebsitedesign.com
I am so excited to release this brand refresh and website for LR Design & Marketing! I can't wait to continue to help start-ups and small business launch unique web designs, branding, and digital marketing plans now and into the future. Everyone has the ability to create his or her dream business, let LR Design & Marketing help you get started!