You know you need a professional website, but what the heck do you put on it? Many of us have been in this situation before. Building a beautiful and effective website takes a lot of careful planning. It takes time to craft the perfect message for each page and to visually display it according to your brand. Your website should be the hub of your business, so you want it to look good and communicate the proper message. Here are a few elements to be sure to highlight on your website.
Content Style
Before you get started writing, understand what the style of your new site will be. Some businesses need long-form content pages where they go into detail on certain topics. Other businesses can get away with bullet points and short paragraphs. It's important to determine what's best for your business and put a plan together for the information you want to display. Going along with this, the tone of your content should also be put into place before you start writing. Is your brand's tone formal, casual, funny, simple, etc..?
Clear Description
You only have a few seconds to grab your visitor's attention. When someone lands on your site, you want them to instantly understand what your business does. Front and center; be sure to have a clear description of what your business offers. I've seen a lot of sites that have a vague tagline or a hard to understand message which makes you question what the site is about. Keep your business description simple and crystal clear.
 Purpose
Other than connecting with your target audience, your website should work for your business in multiple different ways. Establish the ultimate purpose of your website before you start building it helps you to clearly know what will be needed. Things like email subscribe forms to collect leads, a blogging platform where you can write good quality SEO content, or a visually pleasing portfolio gallery to display your work are all things that might be required to help you achieve your business goals. Here are a few common ways you can use your website to work for your business:
Create authority in your industry and position yourself as an expert in the field
Attract high-quality visitors via organic Google searches (SEO)
Educate your potential customers about how you can help them
Convert visitors into customers
Grow your bottom line
List of Your Products & Services
A simple yet effective element to be sure to include on your website is a list of your products and services. This makes it easy for visitors to know that they are in the right place. Listing your products and services is a great way to give visitors to your site a look inside exactly what you offer and why. Another list you need to be sure to include throughout your site are the benefits of your products and services. Put yourself in your ideal customer's shoes, and ask "Why would I buy from this business?"
Professional Photos
Visuals are important for establishing your brand's online identity. If you're comfortable behind the camera, this is a great time to shoot high-quality images that portray your business. If you have the budget, hire a photographer to help you out. Stock photography is also commonly used and acceptable but should be done so sparingly. Using professional and original photos is a way to showcase your business in a unique way.
Trust Signals 
Use your website to build trust with your visitors. One of the best ways to do this is by displaying testimonials or reviews from past customers. Another way to build trust is by displaying your work via a portfolio or write case studies about past projects and how you helped a past customer overcome an obstacle. Another valuable trust signal for your website is ensuring you are using https:// to add an extra level of security (vs. http://) for anyone filling out forms or purchasing something from you. https:// keeps visitor information encrypted, so internet hackers can't access their contact information, or worse, their payment information.
Call to Action
Don't forget to include call-to-action buttons on your website's pages. This helps visitors easily navigate your site and encourages action. Add buttons to your contact page, consultation page, ebook/white paper downloads or anything else. It's also important to include email newsletter forms to build your email list.  Remind yourself of the purpose of your website, and be sure to include call-to-actions to encourage those goals. After all, reaching goals makes us all feel good!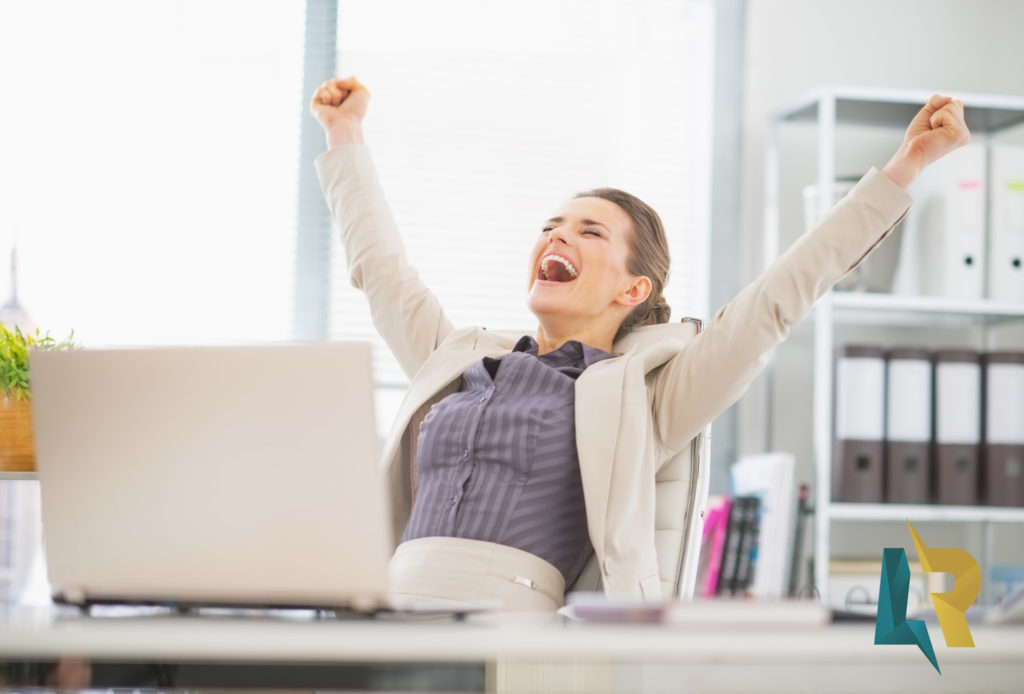 LR Design & Marketing offers custom website design, SEO and content creation to help you achieve your business goals. Need help putting together the perfect website for your business? Let's chat!