How hard could it be to start blogging for business? Writing content for the web is one thing, writing content that works and generates leads and interest is another. Do you ever feel like you spend so much time crafting content and yet you aren't getting your visitors to take any action? Whether you're writing a blog, an email, information on a landing page, or posting on social media, there is a simple formula that will help you write successful web content. Just imagine having your web content work for you while you sit back and reap the benefits!
Your Topic
Select your topic wisely! You're in business because you are able to help others fill a need. Show them that you know your stuff and provide content on topics they are interested in learning about. I encourage you to build out user personas by clearly defining who your target audience is. Uncover what their struggles are and what keeps them up at night. Now, address these problems in your writing!   Read more about user personas in this article on planning your digital marketing strategy.
Headlines
Your headline will determine whether your content gets read or not, so I'd say it's pretty crucial to get it right. Keep your headlines simple and informative. Include numbers, use interesting adjectives, use what/why/when/how. All of these are an effective way to grab attention from the get-go. For example, a headline that reads "Find your Next Apartment" VS. " How you can Effortlessly Find your Dream Apartment in Less Than 24 Hours" is dramatically different. Please remember that people don't want to be tricked into reading something boring, they want to be drawn into something exciting. So make it worth their while!
Keep it Simple
When reading articles on the web, people like to scan. Use short sentences & paragraphs; skip unnecessary words, avoiding using jargon, and try not to repeat yourself. Lists and bullet points are your best friends!
Put Important Information First
Start with an interesting statistic or a compelling quote to draw your readers in. If your first few sentences are a bunch of fluff, what are the chances that your visitor will make it to the bottom of the page? Not very high! Start off with the most important information up front and deliver the supplementary information throughout your content.
Address a Need
Always be solving problems for your target market. Your content should address one of their needs, provide a solution to their struggles, or simply make their lives easier. I always follow this step-by-by step approach when writing content:
#1: Define a problem your target marketing is currently facing.
#2. Show them the desired result. How will their lives look when their problem is solved?
#3. Bridge the gap with the solution. How will you take them from the problem to the solution?
#4. Call-to-Action. Don't forget to show your visitors what to do next!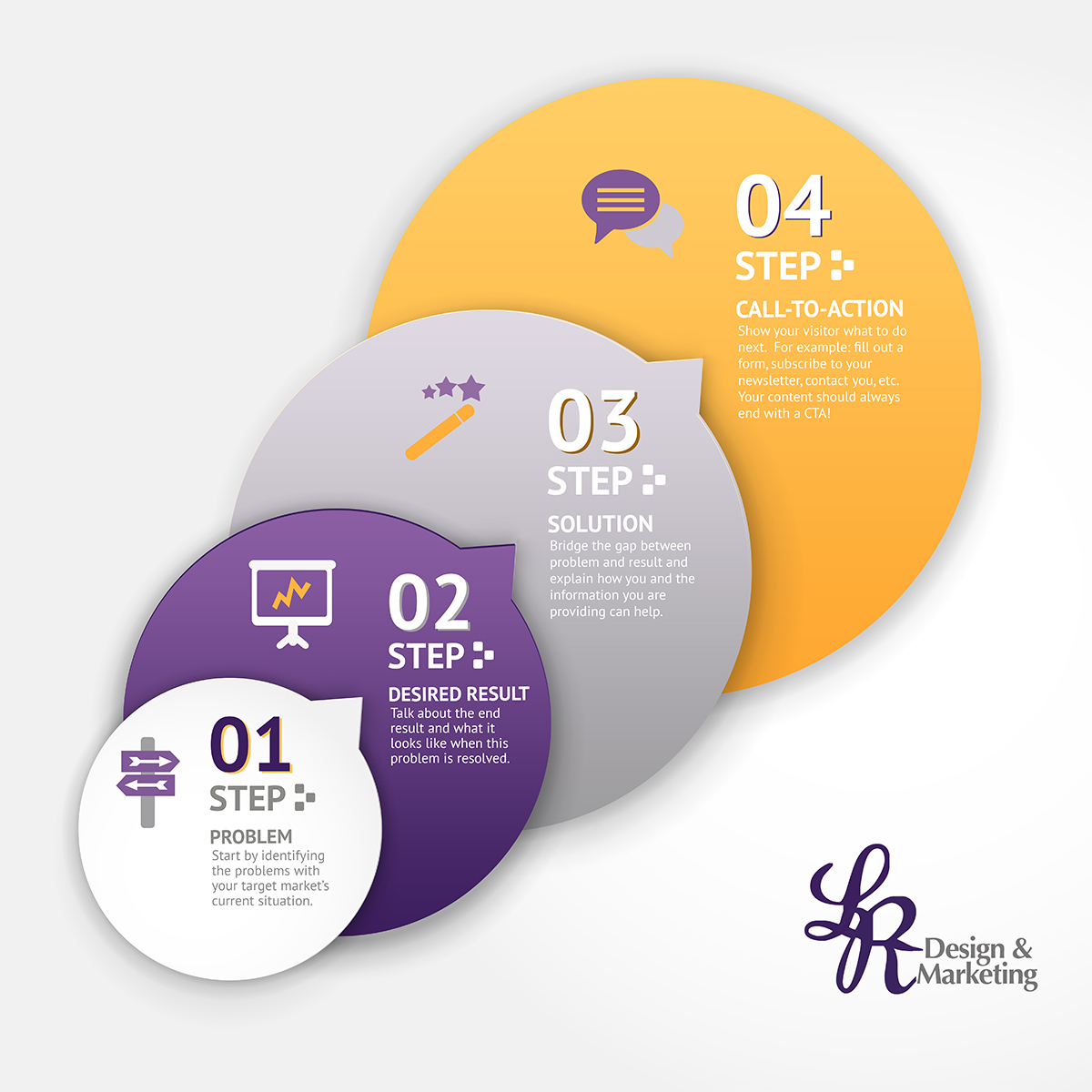 Visual Impressions
We've heard it all before, Photos are worth a thousand words. The more photos you have at your disposal, the better. Pick a relevant image to be the main photo for your content that you can use to share on social media and link to your content. Include a caption under your images. Captions under images are read 300% more than the body copy itself! I encourage you to take your own images or purchase high-quality photos. Stock images, that are obviously stock photos (you know what I'm talking about) are a big turn off and offer not real value to your reader.
CTA
Last, but certainly not least, include a call to action either at the end or within your web content. This can vary depending on the goal of your content. You could want your visitors to sign up for your newsletter, contact you, watch a video, purchase something, or follow you on social media. Whatever it is, include an easy way for them to complete the action you're looking for!
I hope that by implementing a few of these tricks, it will take your web content to a new level and help you grow your business. Try them out and see what works best for you. Need help getting your blog started? Let's talk!