Every day that our understanding of technology increases, there is an increased opportunity to use that technology to share, teach and learn. Since the late 90's, savvy business owners have recognized that blogs are a major way to harness these opportunities.
However, blogs have evolved over the past 2 decades. And, while we've discovered that there is no "one right way" to blog, there are some methods that work better than others for attracting and keeping visitors! Read on to find out the top elements of an effective blog post in 2020.
Address a Problem/Need (and how to solve it)
How well do you know your target audience? Do you know them like you know your best friend?  Do you know what gets them out of bed each day? Make it your blogging mission to understand what they're passionate about and offer solutions for what's getting in the way of their success.
Be sure to consider not only what they don't know but also what they already do know. Millennials don't need to be convinced of the value of social media. Stay at home mommas don't need to be told that kids pick their nose. BUT, millennials might find value in learning more about how to use social media to impact the boomer generation and mommas might want to know more about the surprising benefits of healthy bacteria.
Check out our past post – Benefits of a Company Blog – for more ideas on how to connect with your target audience.
Write a Good Headline
This step is critical! Today's reader has an extremely short attention span; research has shown that many people don't even read past the headline of an article. If you knew that you might only get those 8 seconds with your blog visitor, what words would you use?
Some other tips to consider:
Keep your headline between 8 and 14 words
The best headline might come along after 28 re-writes; don't settle
Try wording the headline as a question
Be specific
Your friends here at LR Design and Marketing have turned headline writing into a science and would love to help you with your next blog project! Check out our content creation service page for more details on how we can amplify your message.
Break up Content with Headings and Bulleted Lists
If you want to keep your readers' attention, the format of your text matters. Too many long blocks of text and people will lose interest. Consistently styled headings and sub-headings make a post easy on the eyes and much more engaging. Bulleted lists can also break up long blocks of text and draw attention to specific bits of information.
Featured Image
Images can also help improve the visual appearance of your post. The right visual support can help simplify a complex topic or even infuse some humor! You can also include one or more images or graphics throughout your post as often as necessary to help break up the text or enhance your ideas.
Include a Relevant Call-to-Action
A call-to-action, or CTA, is the perfect punctuation to end your post. A CTA gives your reader the opportunity to put what he/she just read into action. It can also include a link to a related post on your blog that would allow your reader to explore more of your business or services.
Challenge your reader to share their CTA on social media and tag your business to make this yet another win-win! If you are stumped on where to begin with using CTA's, check out AdEspresso's list of 50 examples.
Edit/Proofread
After the post is written, it's essential to read through it completely one or two times to check for grammar or spelling errors. Bear in mind that YOU know what YOU meant when you wrote it, so there's a chance you could overlook a contextual error. Have a colleague's fresh set of eyes look it over for errors and to give honest feedback.
Include SEO Best Practices
If you haven't already started diving into the world of Search Engine Optimization (SEO), this is your cue to begin. It is critical that you or someone on your team is a forward-thinking SEO expert. Here are a couple of tips from our forward-thinking SEO expert:
Focus on 1-2 keywords (no more)
Include your focused keyword in your page title, H1, meta tags, URL and within the body copy
Include internal (other website pages within your site) and external (other websites) links within your post to provide further resources
Publish regularly
And there are many more strategies our team at LR Design and Marketing employs to improve website visibility. Check out our search engine optimization service page today to learn more about what we can do to help you!
Effective Blog Posts in 2020
If you have a business website, you SHOULD be blogging. It's important for your business to maintain a positive online presence because it helps you stand out from your competitors and even helps you to secure more clients. It's not too late to start today and we've got the tools and expertise to help you get off the ground!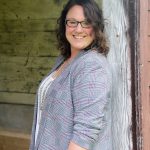 Article written by Emily Krill, Editor & Content Specialist