After you've done a certain type of process over and over again, you form a workflow that allows you to take a project from start to finish. Like any type of project, web design has a certain workflow to get from an idea on paper to digital form while also functioning properly on the internet.  When i first started out in web design, I didn't have a workflow that I followed.  I pretty much just did what I thought was best until the project was finished.  Now, many years later, and multiple projects behind me,  I've developed a certain workflow that helps me be more productive and produce high quality sites for my clients.
A workflow is a sequence of industrial, administrative, or other processes through which a piece of work passes from initiation to completion
I've learned a lot over the years, and have optimized this process to avoid wasted time, miscommunication, and errors.  Web design and development can be very tedious at times, so this process really helps me to stay on track, avoid issues, and gets me into a position to complete web design projects with consistently high quality.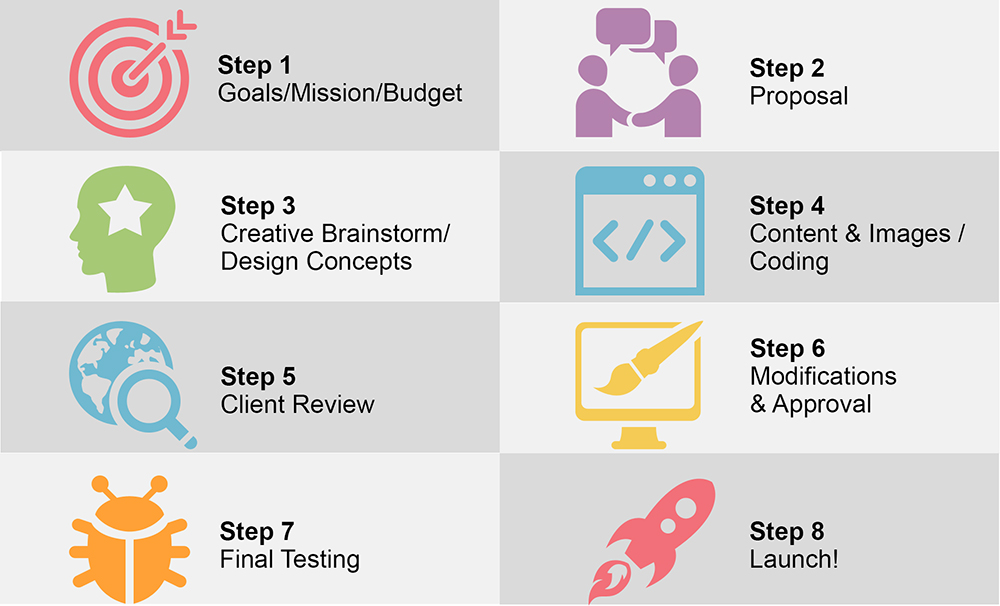 Step 1: Goals/Mission/Budget-
This is the first and most critical step in any web design project.  The client and the designer must be on the same page.  When it comes to business and marketing goals, what the mission of the project is, and how much is going to be spent are just a few items to be focused on.  It's important that this be in writing and agreed upon by both parties before the project officially kicks off.
Step 2: Proposal-
After the goals and the budget have been discussed, I always send a proposal to my client.  This shows each design & development piece and cost associated with it.  These items need to be accepted and signed before the project begins.
Step 3:  Creative Brainstorm/Design Concepts-
This is where the fun begins!  I will typically ask you what sort of vision you have for your site.  What do you tend to like in a website and what do you hate?  Everyone has their own taste, and in the end, the client has to be really happy with the final result.  I will then mock up a draft of a site based on our discussion for you to review.
Step 4: Content & Images/Coding-
In this step, the content for the site is organized and images are gathered.  Each page is laid out with the information that must be displayed, along with corresponding media.  In my opinion, the more high quality images you have, the better.  Now, pair that with some great content and you've got yourself a winner.  The development of the site also begins in this step.  Code is put into place to display your website exactly how you want it.
Step 5: Client Review-
I always give my clients a sneak peek of the site before it is too far along in the build stage.  That way, if they've changed their mind about a color or how something is structured, not much time has been lost.  It is also a good checkpoint for the designer as the initial framework of the site has been put into place.
Step 6: Modifications & Approval-
After the client has reviewed the site and gives feedback, I make any desired changes and clean the site up to it's final state.  The site then goes in for another round of reviews by the client until it is approved.
Step 7:  Final Testing-
We are almost done!!  There are many times when you feel like your site is ready and you are so excited to start distributing and promoting it. But wait. Testing must be conducted just in case there are any issues that are not noticeably detected.  Some tests include running the site on different browsers, screen sizes, and making sure all forms are working properly.
Step 8: Launch
We've done it!  You're site is ready to launch.  This is where I give you the login information to your site, along with an instructions on how to make changes.  The site is owned by you and you have full control over it.  Although the site is completed, I am always here for any maintenance and design changes you need in the future =)
If you have a website project that you're looking to get started, give me a call or drop me an email!